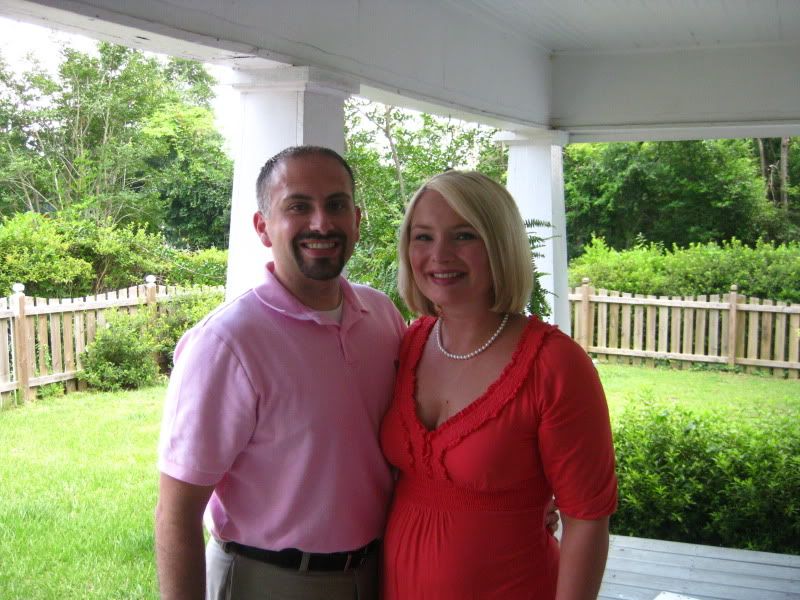 Today Becks and I celebrated our 6th Anniversary! It feels like only yesterday we were saying our vows at St. Paul 's on Amelia Island and heading off for an abbreviated honeymoon on Cumberland Island at the Greyfield Inn. All week I have told her that we were going to head over to her parents to grill pork chops since no one wanted to watch the kids. She seemed disappointed and resigned that this was now our life. However, secretly I had talked to Steve and Charlotte to watch Mason and Julia while we went out. I broke the news to her this afternoon and she smiled saying she knew I had been planning something.
Charlotte and Steve arrived at our house a little before 5:00 p.m. and we immediately left for Tallahassee . I had made reservations at Shula's 347 for dinner and wanted to have a drink with my beautiful wife at the Level 8 lounge beforehand. Both places are located in the newly renovated Hotel Duval. Valet parking was complimentary with diner at Shula's and upon entering the Hotel Duval it felt like something that belonged in a much larger city than Tallahassee . It was very modern inside and had a good urban vibe.
We took the elevator to the 8th floor and entered the bar area that was enclosed in floor to ceiling panes of glass. Becks and I sat down at a table inside the bar and looked over the menu. We ordered a couple of drinks, an appetizer, and made our way outside. It was nice to sit outside, enjoy a drink and take in the views. Tallahassee is a very pretty little city and Level 8 offered us a good vantage point to look over the area.
After finishing a second cocktail each we went down to Shula's 347. From reading some reviews I knew that the décor was more modern than the regular Shula's steakhouse and upon entering we were led down a flight of stairs and immediately seated. A long rectangular overhead light illuminated our area and was made up of empty glass bottles placed next to one another. The bottle light ungulated up and down and looked like a permanently frozen wave.
A waiter came to our table moments after we were seated and after welcoming us by name took our drink order. We also ordered the BBQ shrimp appetizer. This came out very quickly and consisted of four grilled jumbo shrimp stuffed with basil, wrapped in apple wood smoked bacon and covered in a tangy BBQ sauce. They were full of flavor and Becks and I ate them in short order.
For our entrees she ordered the New York strip while I opted for the bone-in Cowboy rib eye. When our steaks were brought to the table the waiter had us cut into the middle of each to see if they were cooked to the appropriate level. To assist us in seeing inside the meat she had a small flashlight. Becks' was not done to her liking and it was quickly put back on the grill. While we waited for it to be cooked the manager came over and apologized. In a few minutes hers was done and we each enjoyed the best steak we ever had in Tallahassee. The meal concluded with a huge slice of cheesecake and coffee. We lingered for a little while enjoying each other company before we made our way slowly back to Monticello . It was a perfect evening.
Sweet Tea & Bourbon's Rating:
Atmosphere: A
Taste: A
Presentation: A
Service: A
Cleanliness: A
Price: $$$$
Restaurant Info:
Shula's 347 Steakhouse
415 North Monroe Street
Tallahassee, Florida 32301
(850)224-6005